While it is commonly known carbon dioxide levels affect productivity in working and learning environments, studies show that high levels of airborne illness tend to amplify in rooms with poor levels of air circulation and ventilation. Ventilation brings in fresh air which helps to circulate stagnant air, and removes particulates and allergens. As coronavirus is transmitted through the air, the demand for good ventilation is now more critical than ever during the COVID-19 pandemic.
CO2 sensors with LED indicators offer an extremely effective visual guidance for carbon dioxide levels, a key indicator of the air quality. The amber/red LEDs indicate the need to ventilate the space or open windows, a simple fix so easily overlooked.
At Titan, we are always looking at ways to improve our products and ensure they are suitable for our customers applications. This is why after the advice from REHVA and CIBSE we have taken the step to modify and lower our traffic light LED indication thresholds on all our CO2 sensors to comply with the new guidance and recommendations.
Recommendations for CO2 air quality monitoring
The Federation of European Heating, Ventilation and Air Conditioning Associates (REHVA) have advised lowering the default settings of traffic light indicators to in order to promote as much ventilation as possible.
Due to the epidemic, REHVA recommend changing
"the default settings of the traffic light indicator so that the yellow/orange light (or warning) is set to 800 ppm and the red light (or alarm) up to 1000 ppm in order trigger prompt action to achieve sufficient ventilation even in situations with reduced occupancy. In some cases, standalone CO2 sensors or 'CO2 traffic lights' can be used."

REHVA COVID-19 guidance document, August 3, 2020
The Chartered Institution of Building Services Engineers recommends "standalone CO2 sensors or CO2 traffic lights" to be used due to the pandemic. This recommendation has been adopted by Loughborough University who recently purchased our Titan Products CO2 LED Indicators in order to be compliant with this new COVID guidance. The easy to understand traffic light design allows users, such as teachers, to respond quickly.
How Titan Products can help
In line with the guidance from REHVA, Titan Products have altered the traffic light LED settings.
| | | |
| --- | --- | --- |
| LED | Previous settings | New settings |
| Green | Below 1000 | Below 800 |
| Amber | 1000-1500 | 800-1000 |
| Red | Above 1500 | Above 1000 |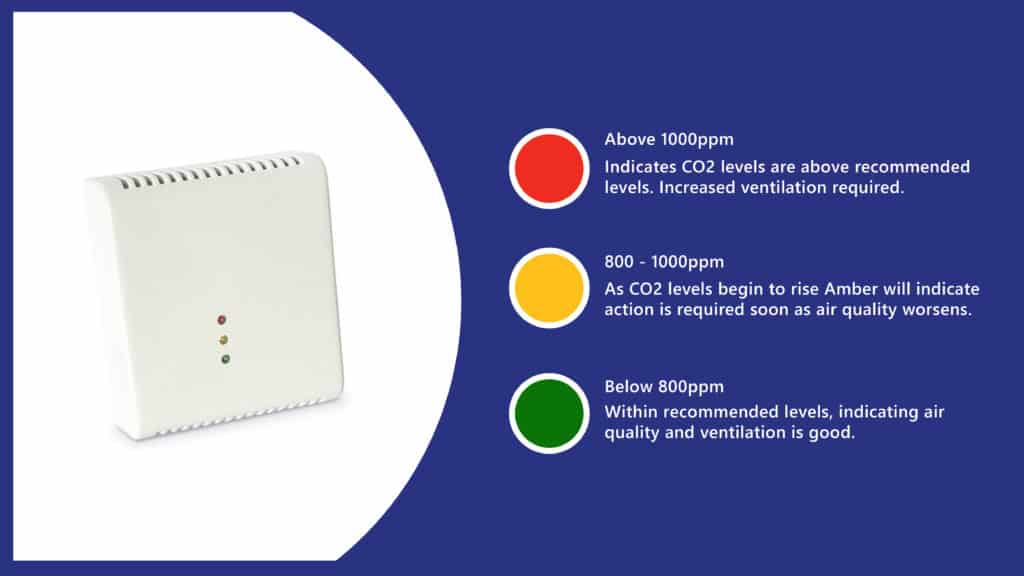 Our Range
At Titan, we offer a wider range of options for CO2 monitoring with LED indication ranging from battery powered CO2 indication only devices and traditional 0-10V wired sensors, to wireless and Smart BACnet/Modbus Co2 sensors, all at very competitive prices.
For more information please contact the sales team or visit: https://titanproducts.com/product-category/co2-and-co-sensors/ for our full range of CO2 sensors.