Titan Products are proud to announce the launch of the world's first Zigbee 3.0 CO2 sensor.
Communicating using the latest Zigbee 3.0 technology the TPZRCO2TH-Z3 is designed to communicate to compatible third party hubs and co-ordinators opening up the opportunity to add wireless CO2 monitoring to Zigbee 3.0 or HA1.2 ecosystems.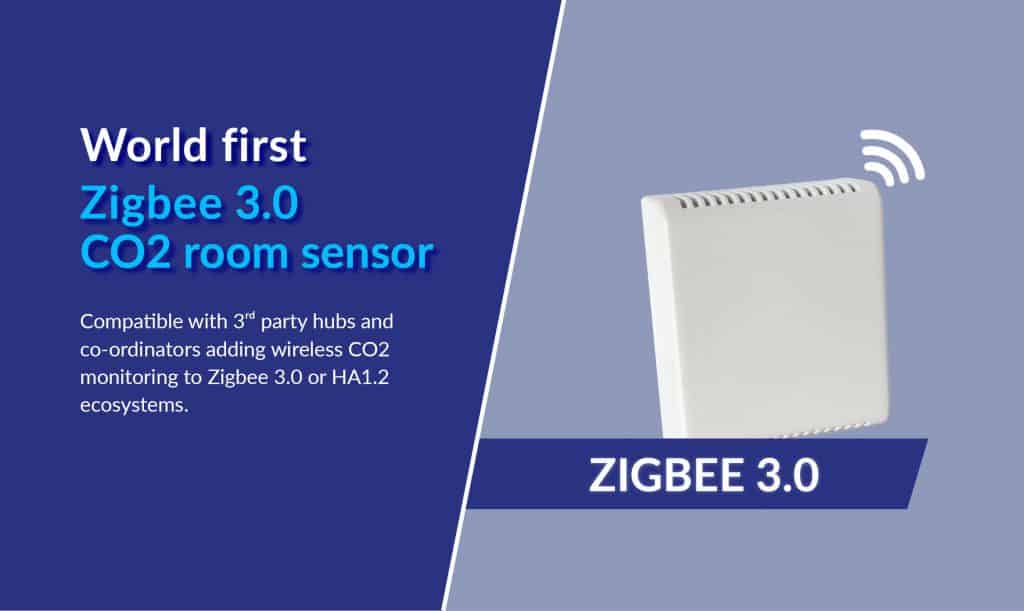 By monitoring CO2 and using the measurements to ventilate spaces on demand, productivity in working and learning environments can be greatly improved while air quality in residential dwelling can be maintained at a comfortable level, making the sensor the perfect solution for a wide range of applications including commercial, residential and education building types.
The CO2 sensor offers Temperature and Humidity measurement within the sensor as standard. Combining all three sensor types within a single device removes the need for multiple sensors within a space reducing install and hardware costs. A temperature and humidity only sensor is also available.
Providing an excellent five year battery life, the wireless sensors provide increased flexibility in mounting location, ease of install and much lower installation costs over wired sensor types as no cable runs are required.
Other features include strong internal signal strengths of up to 60m, over the air (OTA) upgrade functionality, quick release front cover and options for tamperproof enclosures.
All products are UK designed, developed and manufactured with our on-site R&D team always striving to improve products to provide customers with more options in terms of product selection and flexibility. These new sensors offer an exciting new development which now allows us to offer a sensing solution for traditional 0-10V wired, Zigbee wireless or BACnet/Modbus networks.
Find out more about our groundbreaking Zigbee 3.0 CO2 Sensor here: https://www.titanproducts.com/sensors-hvac-and-bms-peripherals/co2-co-sensors/zigbee-room-co2-humidity-temperature-sensor.html