All our Smart IO modules are now supplied with Near Field Communication (NFC) capabilities as standard. This allows the IO modules to be set up using a smart phone or tablet via the Titan Commissioning App with the desired setup passed to the Smart IO module instantly, with or without power applied to the units.
What is NFC?
NFC stands for Near Field Communication, a short-range wireless technology which allows users to exchange digital content and connect devices with a touch. This NFC technology already is in contactless cards and allows us to make payments with our mobile phones. As NFC transmissions are short range, devices only need to be within a few centimeters of each other and a connection is established instantaneous.
The Commissioning App
The commissioning process is extremely quick, simple, and flexible with the Commissioning App. It allows setup and selection of the communications type, with a choice between BACnet MS/TP or Modbus, as well as communications addressing, baud rate, parity settings and quick setup of the flexible universal inputs. The Smart IO module setup and model types can also be read back by a simple tap of the device.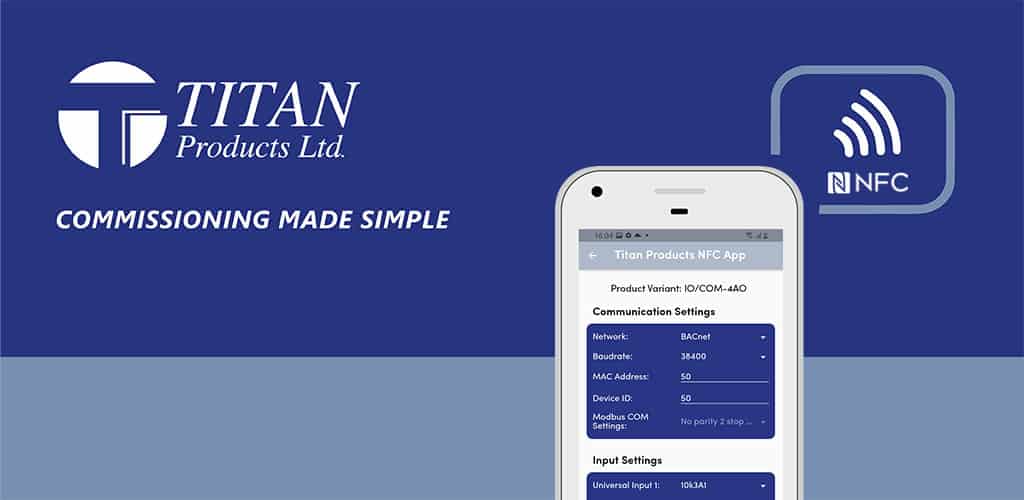 The IO Modules
Offering up to 8 x Universal Inputs and up to 8 x analogue, digital or relay outputs depending on the product variant, the Smart Input / Output (IO) range from Titan Products are designed to provide additional and cost-effective networkable device points to BACnet MS/TP or Modbus RTU networks. Designed for HVAC and BMS markets, the Smart IO modules can be used for a wide range of Monitoring, Control and Positioning applications that include:
Monitoring of Environmental conditions (temperature, Co2, humidity, pressure, light levels etc.)
Energy Meter monitoring
Positioning, and monitoring the position of Valves and Ventilation dampers
Positioning, monitoring, and enabling plant (pumps, fans etc.)
Input detection for alarms (Leak, windows, switches etc.)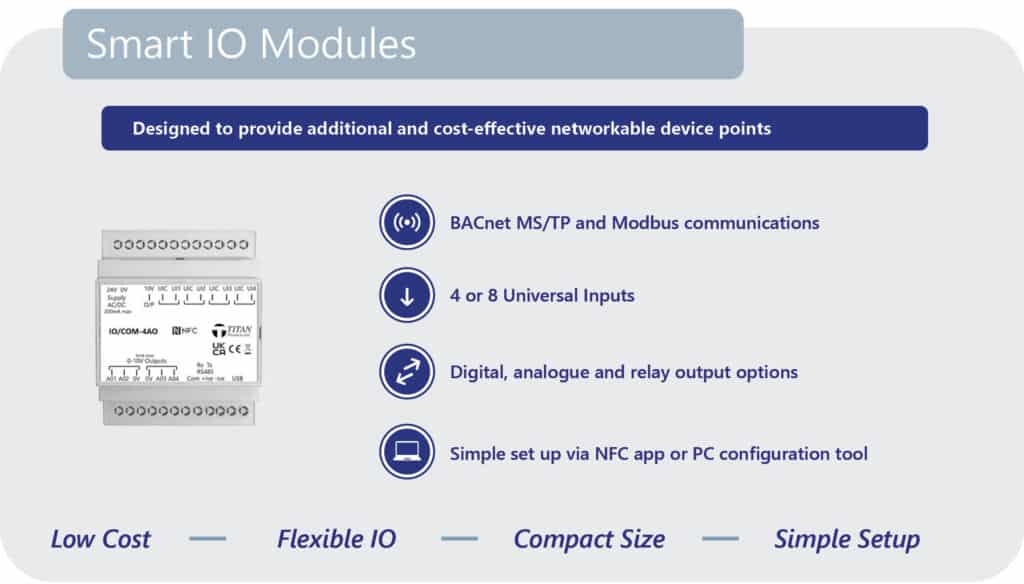 Universal Input Types
The Smart IO modules offer flexible universal inputs that can be easily configured with the app to the below options:
Resistive:
NTC: 10K3, 10K4, 20K6
PTC: NI1000, PT1000
Analogue:
0-20mA
0-10V
Digital:
ON/OFF contact
Pulse Count
App Compatibility
Every iPhone since the iPhone 8, and Android 9, 10 and 11 devices will be able to use our NFC app. It is downloadable free of charge from the Google Play Store or the Apple App Store.
An alternative PC based setup tool is also available if required.
Full details and pricing on the Smart IO modules can be found here:
https://titanproducts.com/product-category/bacnet-modbus-io-modules